GSA Vendor Listing – Companies looking to sell to government agencies can benefit from GSA's status in many ways. A couple of the distinctions available include Best in Class (BIC) and Indefinite Delivery Indefinite Quantity (IDIQ) Contracting.
Each distinction is a vehicle for the government, establishing a set contract with standard terms and conditions and a pre-approved catalog of products and services.
Qualifying companies go through the GSA Schedule Offer procedure and have their contract granted become "GSA Approved," and so available for the GSA Vendor Listing.
Although companies can sell to the government without going through GSA, having a GSA Schedule will make things easier.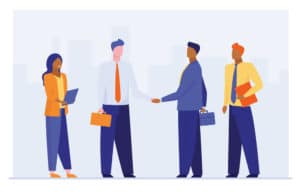 Business leaders shaking hands. Partners closing deal flat vector illustration. Partnership, cooperation, contract, agreement concept for banner, website design or landing web page[/caption]
The designation "GSA Approved" indicates that a company or organization can sell products or services to the US government through the General Services Administration. Through contracts or Schedules, the GSA oversees all government purchasing operations.
You must have a demonstrated track record in your sector to qualify to sell to GSA. Normally, the government requires a two-year history of earning at least $25,000 each year. Organizations must fulfill several processes to be eligible for a GSA Schedule contract, including getting a DUNS number and registering in the government's SAM system (System for Award Management).
There are several other procedures to take before getting on a Schedule, in addition to making sure your history matches what the GSA needs. For example, you will need to prepare financial logs, work statements, and historical performance records, among other things. There will also be additional online procedures to complete, including the "Pathway to Success" course and a "Readiness Assessment," both of which can be time-consuming.
Persistence, time, and research are all required to become a GSA vendor. Many small businesses find the process intimidating because they lack the resources, time, or money to make schedule acquisition a reality. However, seeing your company listed in the GSA Vendor Listing is worth it.
How do you get on the
GSA Vendor Listing?
Selling to the government ensures a reliable and trustworthy buyer. The GSA MAS program is a categorized, comprehensive offering of nearly every product and service accessible. GSA MAS now has approximately 11 million commercial items and services available, making getting GSA Certifications, and eventually, calling on the GSA Vendor Listing a dream for many.
With that, the following process is required of all vendors working with GSA:
Get a Unique Entity Identifier (UEI).


By April 2022, all entities doing business with the federal government registered in the System for Award Management (SAM) shall utilize a Unique Entity Identifier (UEI) established in SAM.
Obtain a NAICS (North American Industrial Classification System) code.


NAICS numbers get used to describe your industry and to locate prospects through a variety of venues. You have the option of registering for multiple NAICS codes. Keep a written note of your registered codes.
On the Small Business Administration (SBA) Website, check your Small Business Status.


You may check on the SBA website to see if your company qualifies as a small business.
Become a member of the System for Award Management (SAM).


You must register before you can earn a contract, basic ordering arrangement, or blanket purchasing agreement.
Vendors can use the Vendor Support Center (VSC) to learn about the federal market, report sales, and upload data to GSA Advantage! The VSC website has a plethora of information to help both future and current contractors maximize the success of their contracts. It is a great place to start if you want to learn more about the federal market or any of GSA's contracting vehicles.
How do you get
GSA Certifications?
The US government created the GSA MAS contract to align with a company's commercial sales techniques. As a result, before receiving the designation "GSA Approved" or "GSA Certified," potential contractors must demonstrate that the products or services they intend to offer on the GSA MAS contract have gotten marketed to their commercial clients. This marketing enables the GSA to determine fair and reasonable pricing and ensure that enterprises deliver the proposed items and services.
Furthermore, companies that sell products must guarantee that they follow the Trade Agreement Act. Items sold under the GSA contract must be either manufactured in a TAA-compliant nation or significantly transformed in the United States or another TAA-compliant country.
Finally, potential contractors must have a Dun & Bradstreet (DUNS) number and get registered on SAM.gov. While these basic requirements are easy to overlook, they are critical to an understanding before beginning the GSA proposal submission process.
The next stage in developing a GSA Schedule proposal is to determine where your organization fits within the entire program's scope. The GSA Vendor Listing has a spot for IT services providers, law enforcement and security solutions corporations, and many other types of businesses. Once a corporation has decided which Large Category or Categories it will pursue, it must identify the project's scope.
Following selecting a Large Category, the next step is to determine which Special Item Numbers (SINs) your items or services incorporate. Contractors will need to assess and give a certain number of these designations to their product or service offering for each Large Category.
The overall proposal that you must provide is somewhat lengthy and requires a considerable number of documents, such as samples of the previous performance of the work stated in the solicitation, pricing rationale, commercial sales practice disclosures, pricing support, and so on.
To summarize, organizations must complete several procedures to be qualified for a GSA schedule to sell on the GSA Vendor Listing. This qualification includes obtaining a DUNS number, registering with the government's SAM database, and providing historical client contact information to the GSA to conduct a past performance evaluation.
The GSA MAS contract is a complicated procedure that necessitates meticulously documenting, extracting, and arranging vast amounts of data in a GSA-specific manner. Although there are similarities between selling to commercial clients and selling to government agencies, it is critical to understand the methods for maximizing the potential of a contract vehicle.
Contracting with the government at any level can be overwhelming and unfamiliar, especially for those with little or no background in the field. However, given the numerous benefits that await, it is a worthwhile endeavor.