10 Tips to Select Winning

GSA Special Item Numbers
Skyrocket your Federal Sales by assuring you  are in the best Special Item Numbers (SINs). Learn the 10 insights to gain a strategic advantage.
〰️〰️〰️〰️ Skip to the 10 Tips 〰️〰️〰️〰️
This can be pretty complex, so please don't hesitate to connect with us …
What this Article Covers ...
Navigating the complex landscape of government contracting, especially within the GSA (General Services Administration) framework, demands a comprehensive understanding of Special Item Numbers (GSA SINs). These alphanumerical codes are not just identifiers but the categorization of products and services for the GSA Schedule Program. 
Are you a visual learner?  👉
We will dive into the nuances of SINs, highlighting their significance, organizational structure, and practical approaches for contractors aiming to succeed in the GSA marketplace.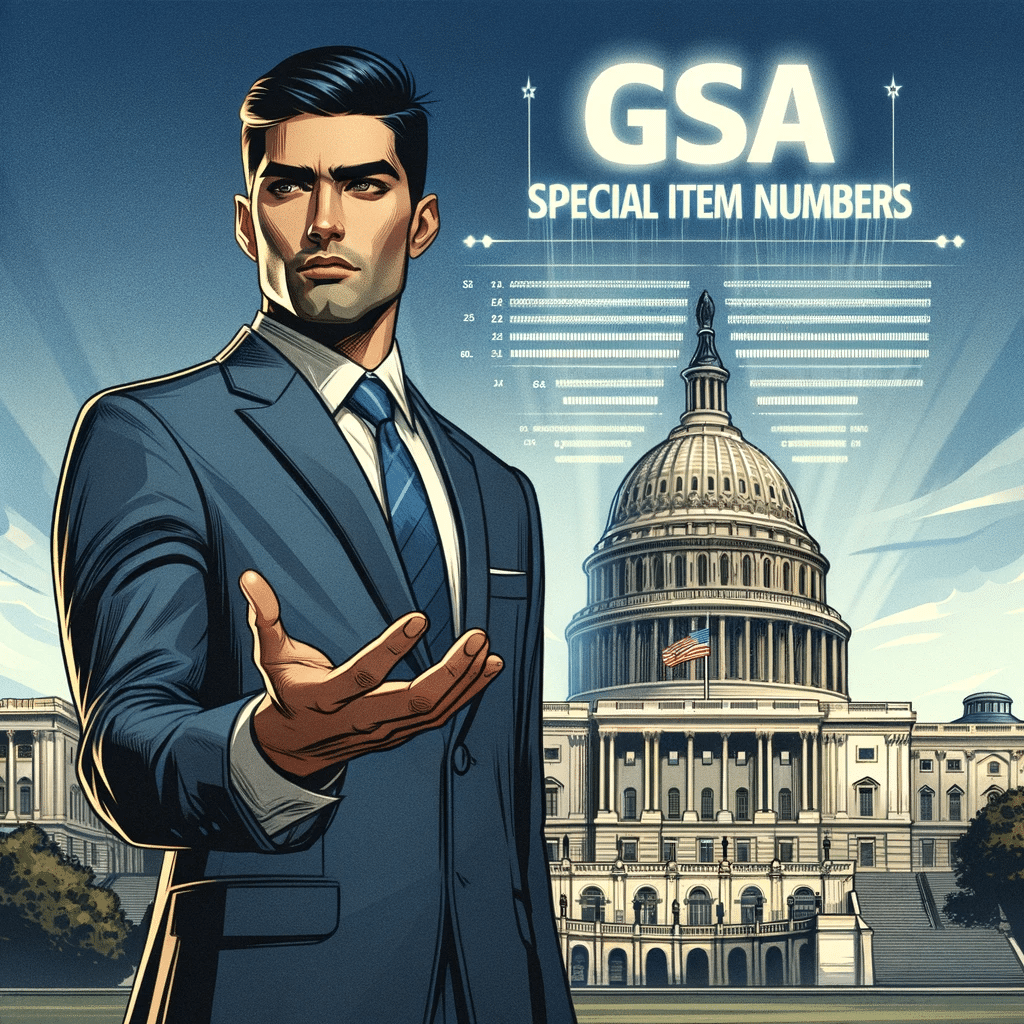 At the heart of the GSA Multiple Award Schedule Program lies the Special Item Number. This numerical classification system simplifies the government procurement process by categorically identifying products and services. For vendors, mastery of SINs is crucial, as it directly influences their capability to secure government contracts.
In-Depth Look at SINs
A SIN is more than a number; it represents a specific category of products or services. For instance, a SIN for office supplies would encompass a range of products under this umbrella. Understanding the breadth and scope of each SIN is vital for vendors to correctly align their offerings.
How GSA SINs are Organized
The GSA Schedule is meticulously structured to facilitate easy navigation and procurement. This structure is threefold:
Why This Matters
This organizational approach is not merely administrative. It's a strategic framework that streamlines procurement, ensuring government buyers can quickly find what they need. For contractors, grasping this system is key to aligning their offerings with government requirements.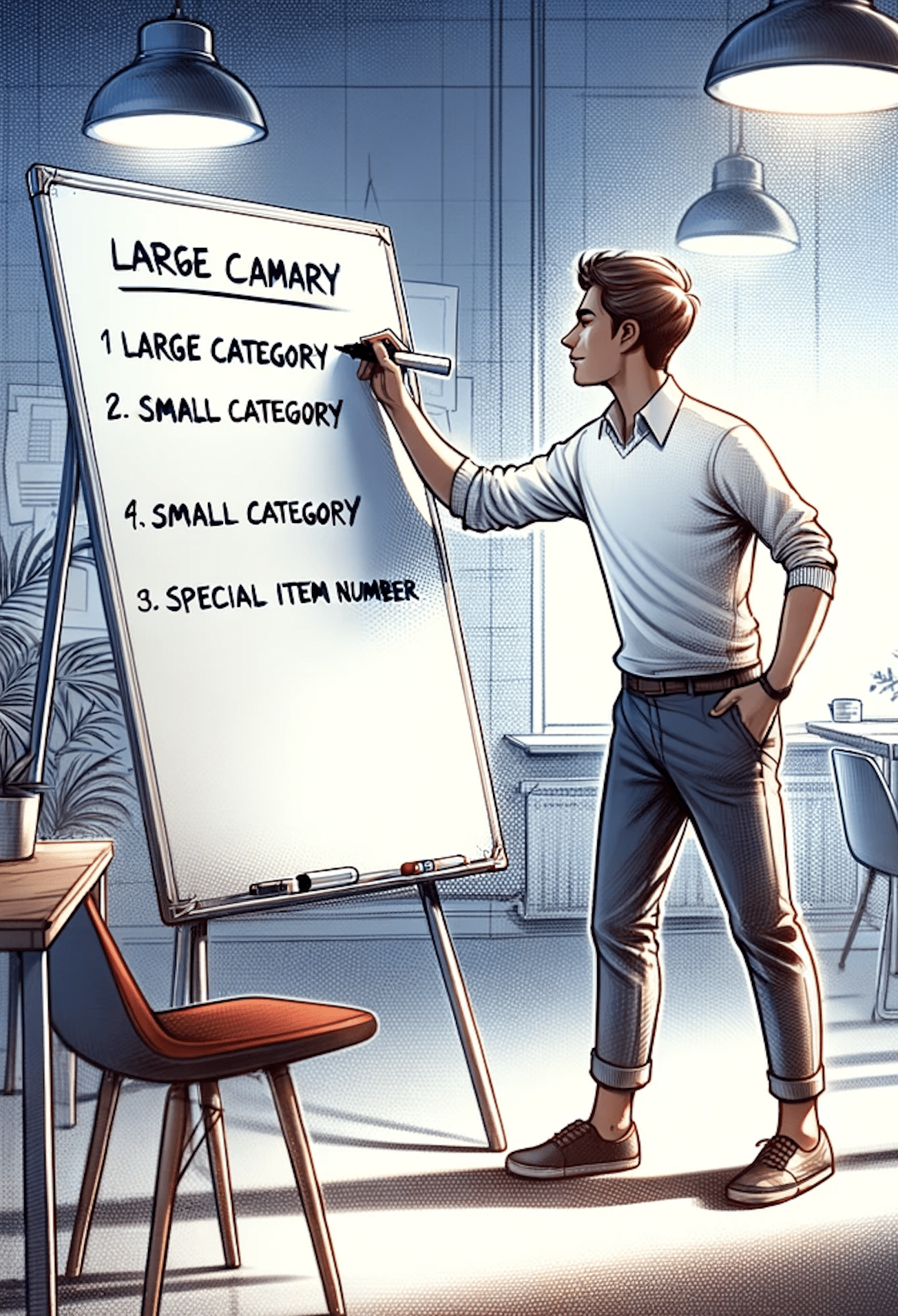 9 Tips for
Special Item Numbers
Utilize GSA eLibrary for Research
Access this resource for comprehensive SIN descriptions that are aligned with industry scopes. It's essential for identifying the most relevant Special Item Numbers for your business.
Optimize by Matching SIN Offerings
Carefully align your products or services with the most appropriate SINs, considering the full scope of each SIN. Ensure your Special Item Number listings and keywords are optimized for visibility in the GSA eBuy and GSA Advantage systems.

Monitor Market Trends & Competitors
Keep an eye on the SINs your competitors use, as this can provide valuable insights into market positioning. Simultaneously, adapt your SIN listings to align with evolving government needs and trends. GSA changes and adds new SINs all the time. It is also common for there to be more SIN categories you are eligible for, and you can get more opportunities and exposure by getting into more categories.

You have two fantastic options to get help with administration and marketing of your GSA Contract. First, your assigned GSA Contracting Officer / Specialist can help. Also, it is always a good idea to consult with GSA specialists for guidance on which SINs best match your evolving offerings. Their expertise can help in fine-tuning your approach to GSA contracts.

Analyze Government Procurement History
Research past government contracts to understand which SINs have seen significant purchasing activity. This can inform your strategy in targeting areas with high demand. Look below for the top sales SINs in each of the 12 Large GSA Categories.
Evaluate Business Goals and Conduct a Gap Analysis
Regularly assess how your Special Item Number listings align with your long-term business objectives. Perform a gap analysis to identify opportunities where your business can fill unmet needs within the GSA marketplace (based on the research from #5 above).

Continuously Learn and Grow your GSA Schedule Knowledge
Strategy is misguided if you do not have a deep understanding of the market. The intricacies of SINs require ongoing education. Utilize GSA resources and workshops, and keep track of changes to GSA Schedules and SINs. Regularly updating your knowledge ensures compliance and relevancy.
Participate in Industry Days and Networking Events
Engage in GSA industry days and other networking events to stay connected with the latest developments and build relationships with potential clients. This is the most powerful long-term form of federal marketing. This is also a great way to learn from buyers themselves which Special Item Numbers they tend to buy off of.

Leverage Marketing and Outreach
Actively market your GSA contract through your business's website and other channels. Highlight your unique capabilities and the advantages of your GSA Schedule contract to attract government buyers.
Get Advice from a
GSA Schedule Expert
GSA Focus has 18 years of GSA Contract and Federal Marketing knowledge. We are here to grow your Federal Sales.
Securing government contracts hinges on the strategic use of SINs. Government buyers issue RFQs or RFPs via the GSA's eBuy system, referencing specific SINs. Contractors with matching SINs on their schedule are then notified. This system highlights the importance of maintaining accurate and current Special Item Numbers on your contract to capitalize on opportunities.
Below you will find the full list and process of locating the highest-sales GSA SINs in your Categories. Remember that you can only pursue a SIN if you have Past Performance.
Talk to a GSA Specialist if you have questions about eligibility for any SIN(s) you would like to pursue.
Below are the Top 3 GSA Special Item Numbers by Category (2023 FY data)
| SIN | Sales | Short Description |
| --- | --- | --- |
| 54151S | $8,568,175,896 | Information Technology Professional Services |
| 511210 | $4,257,326,225 | Software Licenses |
| 33411 | $922,640,429 | Purchasing of New Electronic Equipment |
| SIN | Sales | Short Description |
| --- | --- | --- |
| 541611 | $4,286,087,144 | Management and Financial Consulting, Acquisition and Grants Management Support, and Business Program and Project Management Services |
| 541330ENG | $1,039,423,325 | Engineering Services |
| 541614 | $1,017,147,708 | Deployment, Distribution and Transportation Logistics Services |
| SIN | Sales | Short Description |
| --- | --- | --- |
| 561210FAC | $678,634,126 | Facilities Maintenance and Management |
| 334512 | $72,020,183 | Total Solution Support Products for Facilities Management Systems |
| 332311P | $27,527,072 | Pre-Engineered and Prefabricated Buildings and Structures for Storage Solutions |
| SIN | Sales | Short Description |
| --- | --- | --- |
| 561499M | $241,926,036 | Mail Management, Systems, Processing Equipment and Related Solutions |
| 339940OS4 | $100,332,688 | OS4 Office Products and Supplies |
| 561320SBSA | $58,599,574 | Temporary Staffing (SBSA) |
| SIN | Sales | Short Description |
| --- | --- | --- |
| 561611 | $111,379,674 | Background Investigation Services |
| 541612HC | $98,416,641 | Agency Human Capital Strategy, Policy and Operations |
| 624SS | $51,014,728 | Social Services, Professional Counseling and Veterans' Readjustment and Behavioral Health Services |
| SIN | Sales | Short Description |
| --- | --- | --- |
| 561612 | $1,650,536,887 | Protective Service Occupations |
| 336413 | $146,129,189 | Aircraft Armoring and Helicopter Equipment |
| SIN | Sales | Short Description |
| --- | --- | --- |
| 332510C | $190,946,339 | Hardware Store, Home Improvement Center, Industrial or General Supply Store, or Industrial Maintenance Repair and Operations (MRO) Distributor - Catalog |
| 333924 | $53,320,835 | Utility Trucks and Tractors |
| 335999 | $34,413,028 | Power Distribution and Solar Energy Solutions |
| SIN | Sales | Short Description |
| --- | --- | --- |
| 481211B | $210,780,708 | Air Charter Services - Brokers |
| 532111 | $69,190,302 | Automotive Equipment Rental and Leasing, Rental Supplemental Vehicle Program (RSVP) |
| 336991 | $23,089,124 | Wheel and Track Vehicles |
| SIN | Sales | Short Description |
| --- | --- | --- |
| 33721 | $394,952,320 | Office Furniture |
| 33721P | $96,715,197 | Packaged Office Furniture |
| 337121H | $47,347,067 | Household, Dormitory & Quarters Furniture |
| SIN | Sales | Short Description |
| --- | --- | --- |
| 334516 | $130,934,416 | Analytical Instruments |
| 541380 | $53,172,468 | Testing Laboratory Services |
| 334519 | $47,037,518 | Diagnostic, Measuring and Testing Equipment |
| SIN | Sales | Short Description |
| --- | --- | --- |
| 561599L | $526,327,324 | Lodging Negotiations and Management Services |
| 531 | $72,886,490 | Employee Relocation Solution |
| SIN | Sales | Short Description |
| --- | --- | --- |
| OLM | $366,045,847 | Order-Level Materials (OLM) |
| 4PL | $237,984,683 | Fourth-Party Logistics (4PL) Supplies and Services |
| ANCILLARY | $79,037,190 | Ancillary Supplies and Services |
Top 6 GSA Special Item Number FAQs
These FAQs aim to provide a comprehensive understanding of the importance of GSA SINs and how businesses can effectively navigate and utilize them for government contracting success.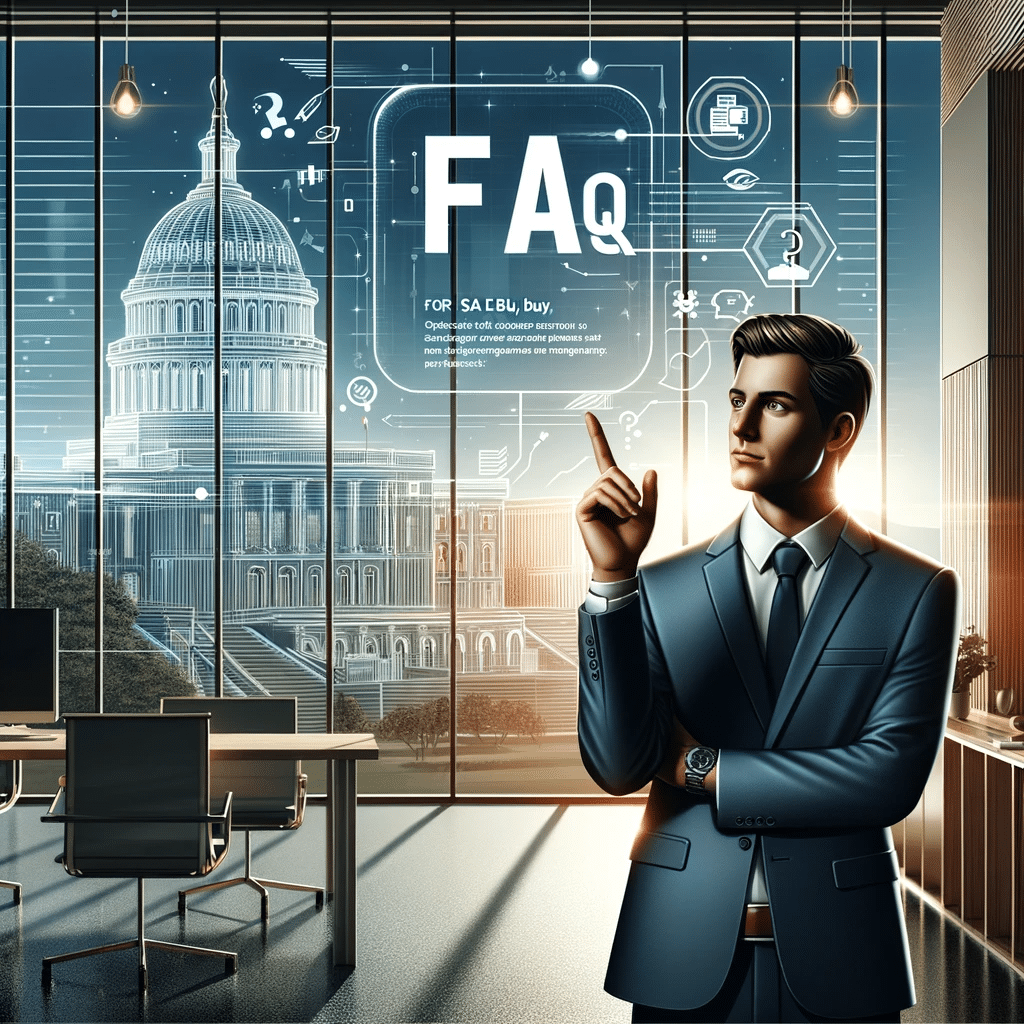 What are GSA Special Item Numbers (SINs)?
GSA SINs are numerical codes used to categorize products and services for government procurement. They simplify the process of identifying and purchasing specific offerings under the GSA Multiple Award Schedule.
How do I determine the right SIN for my products or services?
Utilize the GSA eLibrary to match your offerings with the most appropriate SINs. Consider the full scope of each SIN and ensure your products or services align accurately.
Can I list my products or services under multiple SINs?
Yes, you can list under multiple SINs if your offerings span different categories. This can increase visibility and opportunities for government procurement. However, ensure that your listings accurately reflect your capabilities in each category.
How can I stay informed about changes to SINs and GSA Schedules?
Engage in continuous learning through GSA resources, workshops, and industry events. Keep track of updates to GSA Schedules and SINs to ensure your business remains compliant and up-to-date with the latest requirements.
How can I use market research to optimize my SIN strategy?
Analyze government procurement history to identify which SINs have high purchasing activity. Monitor competitor listings to understand market trends and positioning. This research can guide your strategy in selecting and positioning your SINs to target high-demand areas effectively.
What are the benefits of accurate SIN listing for my business?
Accurate SIN listings enhance your visibility in the GSA marketplace, increasing the likelihood of being selected for relevant government contracts. They ensure that your business is considered for opportunities that align with your specific expertise and offerings.