GSA Ebuy
GSA Ebuy is an electronic Request for Quote (RFQ) system designed to allow government buyers to request information, find sources, and prepare RFQs/RFPs, online, for millions of services and products offered through GSA's Multiple Award Schedule (MAS) and GSA Technology Contracts. Government buyers can use GSA Ebuy to obtain quotes or proposals for services, large quantity purchases, big ticket items, and purchases with complex requirements.
How GSA Ebuy Works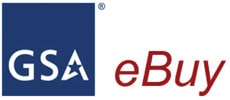 The federal buyer simply posts a description of their needs to GSA Ebuy, along with documentation relating to the project. GSA Contract Holders selected by the buyer are notified automatically by email, but all GSA Contract Holders with the applied SIN can log into their GSA Ebuy account to view RFQ's related to their category. Contractors respond to the RFQ directly through GS Ebuy, and can even upload their proposals into the system. The federal buyer's goal is to get the minimum number of three quotes from schedule holders through GSA Ebuy. Otherwise, they will not be allowed to award becasue they did not fulfill their FAR requirement.
It is unusually rare for federal buyers to notify all GSA Contract Holders through GSA Ebuy. This is because as part of FAR they are required to review all bids and associated materials submitted.The rule of thumb is if a firm is not winning 1 in 7 bids through GSA Ebuy, then they should re-evaluate their bidding strategy.
Any federal contract priced under $25,000 can be posted to GSA Ebuy, for a GSA Contract holder to bid on. Many of the contracts that end-up in FedBizOpps began in GSA Ebuy, and the Request For Quotes (RFQ's) the contracting officer received were too high. This means that in most cases a business with a GSA Contract has had first crack at the project through this web-based system, and those ties will remain throughout. When your have acquired your GSA Contract, then you may register to participate in GSA Ebuy. A great feature is email delivery of any Request that is within your SIN.
GSA Ebuy Links
GSA Ebuy Webpage – A descriptive webpage will offer you some more detail
Ebuy Tutorial PDF – A great tutorial
GSA Ebuy login page – The login page, unless you have your GSA Number and a password you won't get very far