GSA Ebuy
GSA Ebuy
What is GSA eBuy?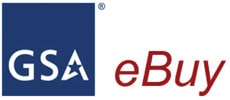 GSA Ebuy is an electronic Request for Quote (RFQ) system designed to allow government buyers to request information, find sources, and prepare RFQs/RFPs, online, for millions of services and products offered through GSA's Multiple Award Schedule (MAS) and GSA Technology Contracts. Government buyers can use GSA Ebuy to obtain quotes or proposals for services, large quantity purchases, big ticket items, and purchases with complex requirements.
eBuy is a website, run by the General Services Administration (GSA) that allows federal buyers to Request Proposals from GSA Contractors (www.ebuy.gsa.gov). eBuy is designed to simplify the purchasing process for federal buyers supplies looking to acquire products or services under GSA Schedule Contracts, GSA Technology Contracts, State & Local (under Cooperative Purchasing and the Disaster Recovery Programs).
For contractors (sellers like you), eBuy provides the platform for you to locate and pursue federal opportunities that are only accessible to GSA Schedule Contractors.
How GSA Ebuy Works

Federal buyers (Agencies) prepare and post Requests for Quotations (RFQs) for specific goods and services offered under GSA Schedule contracts. The RFQ is posted in the eBuy system with an assigned deadline, and is assigned to a GSA Schedule category (called a Special Item Number, or SIN). SOW's are often available for download, Allowing Contractors to research the opportunity in-depth before deciding to pursue the opportunity (Go/No Go).
Sellers listed under the particular SIN category are notified by email that the opportunity is available for review and proposal submission. GSA Contractors who want to submit quotations must do so through the eBuy website. Agency buyers must receive at least 3 proposals from GSA Schedule contractors for orders exceeding the micro-purchase threshold.
After an RFQ has closed in eBuy, the Agency buyer will evaluate and accept the quotation that represents the best solution for the price (best value), and acceptance of the Proposal is issued.
GSA Ebuy: More about Sellers

In order to participate in eBuy a GSA Contractor must register with the Vendor Support Center (VSC) after their GSA Contract is awarded. GSA Schedule contractors must also have their catalog (AKA: Text File) posted to GSA Advantage!®, and then the GSA Contractor will be automatically registered in eBuy under their awarded SINs.
Contractors quotations are not visible to other contractors, the buyer is the only person allowed to view contractors and quotations. Contractors can upload detailed documentation with their quotations, so the buyer can better understand their solution. Open market items are not allowed to be included in quotations uploaded to eBuy. The buyers name, email and phone number are always included, so GSA Contractors may contact them directly with questions.
It is rare for federal buyers to communicate to all GSA Contract Holders through GSA Ebuy. This is because they are required to review all bids and associated materials submitted.The rule of thumb is if a firm is not winning 1 in 7 bids through GSA Ebuy, then they should re-evaluate their bidding strategy.
Any federal contract priced under $25,000 can be posted to GSA Ebuy, for a GSA Contract holder to bid on. Many of the contracts that end-up in FedBizOpps began in GSA Ebuy, and the Request For Quotes (RFQ's) the contracting officer received were too high. This means that in most cases a business with a GSA Contract has had first crack at the project through the eBuy system, and those ties will continue throughout. When your GSA Contract is awarded, you may register to participate in GSA Ebuy. Then, you will receive email notification for GSA opportunities.